March 17
Day 12: Byron Bay/Bangalow
Morning
As we've bought more and more records and comics and books, the size of our backpacks has grown in both dimension and weight. So we've become increasingly picky about transportation options to and from airports, when we'll be lugging around all of our crap. Cabs — specifically Uber cars — are not only more convenient than buses or trains, they've proven to be surprisingly cost-effective for a pair of travelers, as we found in Melbourne.
Kit warned us about rush-hour traffic, so we get up at what we feel is a good hour, allocating 30 minutes for what would otherwise be a 17-minute ride. But I wait until we are all ready to go before opening the Uber app, where I find that the closest car available is all the way at the airport. And it will take 20 minutes just to get to where we are. And surge pricing is in effect. Goddammit!
So we sit and wait. And wait. My face is glued to the app screen as I watch the car inch along the map, appearing to go backwards at a few points. The time to arrival inches up in minutes, then stays constant even as the car makes forward progress. I put the phone down, as this is causing me too much anxiety. I apologize to Mike for not calling the car sooner and wonder if we're going to miss our flight.
When the car finally arrives, we have just over an hour before our flight departs. Bag check closes 30 minutes before the flight, and we definitely need to check bags. At least we already checked in online the night before.
Our driver, hearing that we are running late, pulls a few road moves that wouldn't be out of place in my native Boston. When we get to the airport with 15 whole minutes to spare before bag check closes, we thank him profusely and scurry inside the terminal.
We rush to the bag drop area only to find… a huge line of at least 40 people for the bag drop, and it's moving slowly. Argh! We get in line, then I look around for other ideas, because there is no way this line is going to move fast enough for us to make our flight. I tell Mike to stay in line while I try to find a Qantas rep to talk to.
The Service desk is a possibility, but there is a line there, too. Then I notice a Qantas rep helping a couple use a nearby check-in kiosk. I hover off to the side until they are done, then grab her attention, saying we are about to miss the bag drop cutoff for our flight to Byron Bay, and could she help? The rep looks at my boarding pass, then waves me in the direction of a desk I hadn't previously noticed, marked "Flights Closing." I get Mike's attention and we hustle over to that desk, where there is no line at all. Hallelujah!
Our bags are very efficiently whisked away, boarding passes handed to us, and off we go to security. Just as we've passed through the scanner and are grabbing our bags, a security offer pulls me aside and says he needs to do an inspection. (Nonononono…) I say to him (very, very politely), "oh really? Okay, well, we are worried about missing our flight just now." He says it will only take a minute and — whaddya know! — it does. My shoes and bag get swabbed and they run that through a machine, but there's not pat down or anything like that, thank god.
We are now doing our champion pairs speed-walking team routine down the corridor, weaving around travelers clearly in no particular rush to get to where they are headed. We get to the gate with a few minutes to spare before boarding time, so we chance on stopping to get something to eat for the flight plus coffee for me, as the kiosk is right opposite the gate.
We get our food and find a spot on the floor in the packed gate area to sit down and eat and wait. And wait. So, yeah, our flight is delayed and our plane hasn't even yet arrived at the gate. I am both relieved (we will make our flight!) and irritated (we had more time after all!) and still so anxious that I wolf down my banana bread as Mike, seeing my distress, gives me a tiny shoulder rub. By the time we actually board the plane, I've chilled out enough to start to once more feel excited about the show tonight.
The flight is pretty quick (about an hour), and we step off the plane down a ramp right onto the tarmac. Not only is this a small plane, it's a small airport.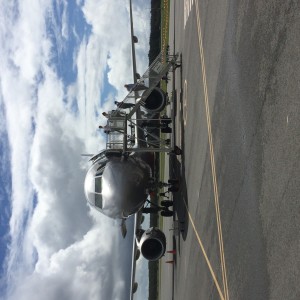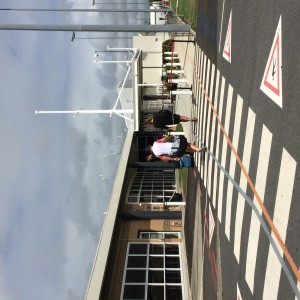 Mike mans the baggage carousel while I head over to the Hertz rental desk, where I'm given the keys to a silver Toyota Corolla. Ready to drive I, uh, guess?
Our car is parked right nearby and we load our bags into it and take our seats, me in the driver's seat on the right-hand side (weird!). That's when we see the in-dash CD player. Right on! We both immediately hop right back out of the car to open the trunk and rummage through our bags for recent CD purchases. And I also need my sunglasses. It's sunny and even hotter than Sydney, which makes sense as we're farther north.
And now I take the wheel for real — eeeeeeeee!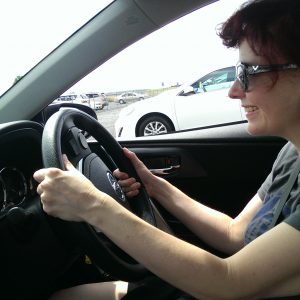 I'd joked earlier about how I'd surely be hitting the windshield wipers when I tried to signal, as things will obviously be backwards to me. Little did I imagine how quickly that would happen. Yep, my first signal to exit the lot is a wiper move. I laugh: that was pretty funny. A small giggle the second time. By the third time within maybe a mile I'm rolling my eyes at my own spazziness. Get it together, Jen! The fourth time's the charm, and we both cheer as I correctly signal a right turn.
Woo, I'm driving in Australia! And other than driving a bit too close to the left initially, I get the hang of it pretty quickly. Even if I do still pull the wiper move occasionally. And we're listening to the Ancients CD that Mike found in Sydney; its hazy psych vibe is mellow enough not to distract.
Now I'm ever more reliant on Mike's navigation skills, as I need to put all of my concentration on the road ahead. But — as far as I'm able to register — the scenery here is quite beautiful, very green with rolling hills and cows grazing here and there. It's the first time we're spending time outside of a city proper on this trip.
Afternoon
After a short drive we arrive in Bangalow, a sleepy, kind of hippie resort town that rinds me a bit of one of the less-traveled parts of the Florida Keys. It's not yet time to check in to our Airbnb, so we decide to wander around the tiny downtown and find some food.
Parallel parking maneuver successfully executed (yes!), we exit the car and start our stroll down the main drag. There are little clothing and gift boutiques, a stationery store, a butcher, and many small cafes. After checking out a few cafes that look okay, but nothing special, we walk by a pub with the following sign outside:
In spite of the tropical heat, fish pie and a Guinness sounds just dandy. We place our order and find a spot on the patio. We grab our beers and wait for the fish pies to arrive. When they do, they're pretty damn good, like a New England-style fish chowder topped with a pastry crust, and lots of large chunks of cod.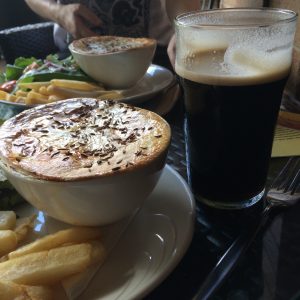 (We never do get the free hat promised by the sign, though.)
Our host messages us to let us know the room is ready, and we're eager to get our records out of that hot car. But we want to quickly scope out tonight's venue first, as it's just a few blocks away.
On the way to the venue, we see a sign for a record store. Well, hello there! We check it out, but it's entirely new vinyl, mostly mainstream stuff, plus gifts and cards and whatnot. Eh.
So we continue on and up ahead is the Bangalow A&I Hall, a 100+ year-old structure at the end of the street, set next to a park. It looks very quaint — not your typical concert venue.
Curiosity satisfied, we head back towards the car. But first we want to get some postcards for us to send to family, so we get those at the stationery store, then get stamps at he post office. On the way out of the post office, I suddenly freeze, as there is a giant lizard sitting on a table just outside: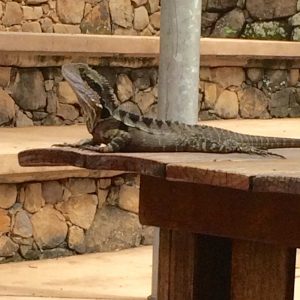 Crazy.
After we both creep as close to the lizard as we dare to snap pics, we drive to our Airbnb just a few minutes away. The house is a cute bungalow partially hidden by tall palm trees and other tropical plants, which form a kind of screen around the building's wrap-around porch.
Our host comes out to greet us, and she shows us around and to our room, in a section of the house that is just for us, with our own bathroom. (After our Sydney housing experience, this is a big relief.) The room is cute and kind of quirky, with vintage furniture, a big feathery pillow on the bed, and shelves of books and knick-knacks. Time for a short rest before heading out again, including some chill-out time on that sweet porch.
Evening
Since the venue did not appear to be the kind of place to have food, we look for something nearby and settle on a burger place nearby for dinner. The place is called Bang Burger Bar and almost all of the burgers have the word "bang" in them (bang… Bangalow… geddit?). So we snigger at a few burger names that are particularly, ah, creative. (Yes, we are twelve.)
We get our burgers — halloumi burger for me, veggie patty for Mike — for takeaway so we can be at the venue at the stated opening time of 6:30pm, even though that's probably just the door time. And it is, so we sit on the steps and eat our burgers as people slowly begin to arrive and the sun sets.
It's a warm night and the birds are in full force on the grounds, tweeting up a storm and flying from one huge, ancient tree to another. After finishing our meal, we walk along the path behind the venue, through the grounds. And there's Courtney Barnett and some of the other Milk! Records artists hanging out on a balcony behind the building. Guess that's the green room.
The front doors are open, and people are drifting inside, so we give us our names at the door and take a peek at the lineup scrawled on a piece of paper at the ticket table: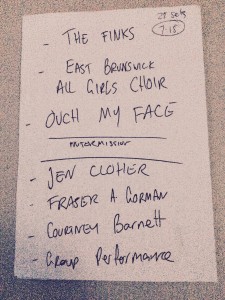 I'm most excited to see Jen Cloher, as I dig her twangy pop-with-attitude. She's one of the artists I'd discovered in my most recent Australian indie music deep dive. And of course I, like the rest of the paying-at-least-some-shred-of-attention-to-new-rock-music crowd, am familiar with Courtney Barnett. In fact, we have tickets to her Seattle gig next month, though mainly so we can see openers Alvvays. So while it will be fun to see her now, catching lesser-known artists less likely to make it over to the U.S. anytime soon is the real draw.
We find a spot against the wall of the venue, the inside of which has a catering hall-meets-school gymnasium kind of vibe. There's only a sparse crowd when the first band, the Finks, quietly take the stage. A very tall fellow plays electric guitar while a petite woman, sitting, recites prose over it. They notch up the energy just a bit for the next song, now singing proper, with the woman playing cello. Then another woman — hey, that's Jen Cloher! — joins the duo onstage and adds more electric guitar. A charming, low-key set that builds upon itself quite nicely.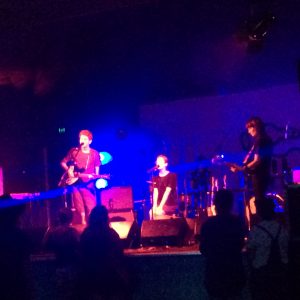 And then the music stops, and the musicians switch up for what looks like a simple scene change. No real break, no house music up. We roll right into the set of the next band, East Brunswick All Girls Choir. I'm not super-into their rock-n-roll thang, but the one song where they first deploy double drummers, that's a keeper. We'll find that to be the case for other bands that night: even if their music isn't necessarily to our taste, there will be at least one song that sparks some head-bopping.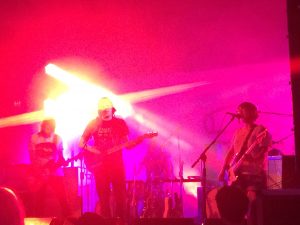 Ouch My Face are up next, blasting away with spiky, riot grrrl-esque punk-funk that is enhanced by (again) Jen Cloher and the woman from the Finks. In fact, one song features a synchronized dance-move sequence: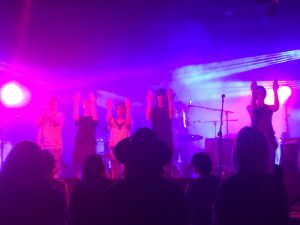 Super fun, and an energizing end to the first half of tonight's revue. We head outside to sit on the steps and get some air as it's announced there will be a 20-25 minute break for intermission.
It's not long before we hear music drifting out through the open door — intermission over! We head back in for the second half.
Onstage is Jen Cloher and her band, who have just started playing. And guess who she's got on lead guitar? None other than Courtney Barnett. We move a bit closer to the stage so we can better enjoy this set. Plus, the hall is finally starting to fill up and we want to stake out some good spots.
Dressed in black jeans and t-shirt, her dark hair in a Chrissie Hynde shag, Jen Cloher exudes charisma onstage, punctuating her tales of relationship drama with snarls, evils grins and the occasional fist pump. I first recognize earlier track "Mount Beauty," then new song "Famously Monogamous," from the Milk! Records tour comp. She starts to launch in to the latter before pausing for a drink of water, explaining: "this one has a lot of words." And a fierce pop punch. Highlight of her set, for sure.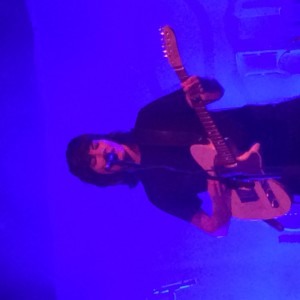 Another quick change of musical players, and Fraser A. Gorman and his band is up. Though the drummer stays onstage. I've noticed that there are a lot of familiar faces from band to band, especially the drummers, two of whom have been playing with multiple bands, sometimes at the same time. Courtney Barnett, too, continues in her adjunct guitar role for this next act.
Before the music starts, however, Jen Cloher first initiates a guessing game with the audience: what does the "A" in Fraser A. Gorman stand for? People yell out assorted men's names beginning with "A" (even Mike, who tosses out "Alistair").
But the one fellow who yells out "Alexander," he wins! He is beckoned to the stage as his prize is brought out for all to see: an enormous watermelon. The young man raises the watermelon above his head in victory, then hoists it offstage.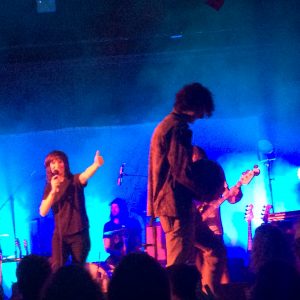 Contest over, the music commences once more. And the music is again not entirely to our taste, a bit Americana-ish (the Flying Burrito Bros. and Austin City Limits t-shirts worn by band members are a tip-off). But again, there is one good song, about — as described in a very long story by means of introduction — a street kid/car window washer.
Then Courtney Barnett is up. She shreds through song after song, and the crowd goes wild, singing along a good part of the time. One clearly-intoxicated dude gets onstage to mug next to Courtney Barnett, but the crowd is clearly not with him, and security hustles him towards the front of the stage, where he performs an unsuccessful stage dive onto the wooden floor.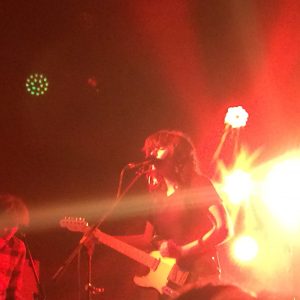 We're up front with the teens, who are bopping their little hearts out. There are a lot of kids here, in fact — it's an all-ages show — and they are all ga-ga for Courtney Barnett. She's really good, though very rock-n-roll. Of course I most enjoy her most pop song.
Then it's time for all the bands to come back onstage for a big Bowie singalong ("Suffragette City"), then one more tune before we're done for the night. Mike and I wander over to the well-stocked merch stand to eye the goods on offer. While we're tempted by the variety of cool t-shirts, in the end we both decide on just copies of the Milk! Records comp (edition of 3000 on green vinyl, oooh).
We both agree: fun show, chill vibe, unique venue. And a pretty intimate gig for someone of Courtney Barnett's stature. We were able to get right by the front of the stage, and there were maybe 200 people there total. Even though we'd got our tickets for this gig when originally planning this as a stopover while driving up the coast from Sydney to Brisbane, it was still a worthwhile detour.
Back to our Airbnb and its wonderfully comfy bed, which we'll sadly have to leave the next day. Because we need to head further north, to Brisbane. On to another city, another gig, and some beach time along the way. Not bad plans for my birthday, huh?