March 11
Day 6: Melbourne
Morning
Recovering from another long travel day plus show, we sleep in. Thankfully the forecast looks much-improved for the day (no rain!), and we can already feel that the temperature has gone up a bit. So I put my sunglasses and the sunscreen in my bag, though neither of us really wants to have to slather sun-protection goo all over ourselves. We did that our first day, Sydney, only because it was so hot and sunny we would have surely burned otherwise.
I'm looking forward to trying a new breakfast place in the neighborhood. Not only is breakfast is my favorite meal (EGGS 4 EVA), but this particular spot, Breakfast Thieves, has a menu that's really inventive without getting outright weird.
On the walk to breakfast I do get slightly waylaid by the Icebreaker outlet store just around the corner. Icebreaker is a New Zealand brand that I'm kind of addicted to. They make kind of sporty-yet-simple NZ wool clothing that, comfort-wise, is like wearing pajamas in public. Even when it's a cute stripey belted dress.
As I walk around the store, a clerk says to me "nice skirt" and I say thanks before realizing, duh, I am wearing an Icebreaker skirt. In fact, it's on the mannequin by the register.
None of the 70%-off clothing is my style, so I manage to avoid spending money that really should be earmarked for records, the shopping plan for which we'll finalize over breakfast.
Hopping up onto the super-tall stool at our table, I begin to scan the menu and see the dish I want to get pretty much right away: the Breakfast Chain. Two soft-boiled eggs with a stack of cheesy "soldiers" (toast sticks), a tiny pot of yogurt with fruit and muesli, and a nectarine-pineapple-almond crumble. I could tell you how delicious this meal was, or I could just share this photo: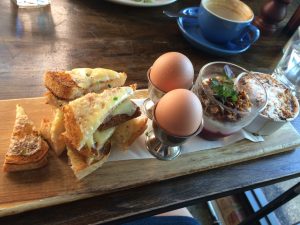 Soon I'm staring the bottom of my crumble ramekin, resisting the urge to lick every sticky crumb off of it. But at least now with some food in my tummy I can focus on plotting our record-shopping course.
Afternoon
We actually didn't do a ton of advance planning, mainly identifying the main indie music retailers in each city. The thinking is that other cool things will be nearby, and we can always ask the folks at each store for suggestions.
On our way to our first stop, Polyester Records, we happen upon another, smaller store, so we pop in to take a look. It's mostly soul/dance/funk oriented, but I do find a Cornelius 5″ record in an origami-esque fold-out sleeve.
But Polyester, our next stop, that certainly delivers. I immediately go to the "new Australian/NZ" 7″ singles bin by the register and proceed to pull out a bunch of things: split singles with Chook Race and the Terrible Truths, a Mope City 7″, and singles by Teaser Pony and Contrast. Those last two were the most exciting finds, as I'd been listening to/loving those releases on Bandcamp for months, and didn't expect to be able to get the actual goods.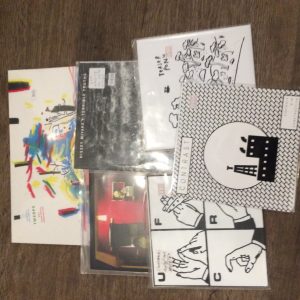 Mike buys a few CDs, including the new Goon Sax album, which I also can't wait to hear. Oh, and spots this enormous, rad Jonathan Richman poster at the back of the store: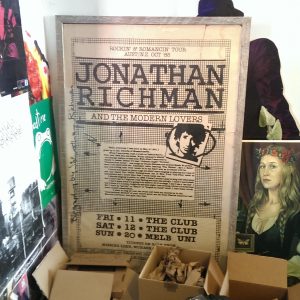 Next we consult our Google Map to see what else we should check out on Brunswick Street. As part of our trip planning we created a map for each city we're visiting, noting record stores, thrift stores, rock clubs, espresso joints, restaurants, bars and other places of interest. It's not a comprehensive list, but it's a place to start.
The next spot is a store with both records and books. There are some really nice records, but most very expensive, and mainly UK or US releases anyway. I do, however find a 7″ from 2009 by Australian band Kitchen's Floor, who I'd recently discovered.
On the list after that is a store that is supposed to have records, though from the front it appears to be a vintage clothing store specializing in menswear. We decide to check it out anyway, and… hey, what do you know? There are indeed records, including a decent selection of both older and newer indie releases. I grab a sealed Chook Race LP, and we admire some old old kitchenware and a midcentury bar with a light-up panel on the front featuring an aquarium scene.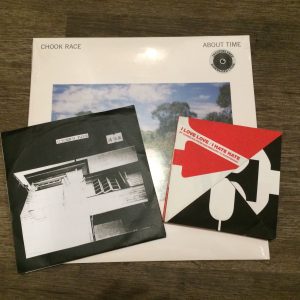 The clerk is super-friendly, asking us where we're from, what kind of music we're into, and suggesting a few other stores to check out in the area. He mentions there is a "Digging Melbourne" record guide we should try to find (he's out of copies). It's a free flyer listing all of the area record stores. Yeah, we need that.
We get pointed towards a store called Dixon's, right across the street, so there we head next. Again we follow what is soon to be regular pattern: first check the Australian and New Zealand vinyl releases — new and/or used, either 7″es or LP's — then the bargain bins. Second, check the Australian and NZ CD's (and cassettes, if available). Finally, if we have the time or stamina (or interest, given our assessment of the quality of stock), the remaining indie/punk/alternative vinyl and CDs.
I score a handful of records from the 7″ bins, mostly dollar singles, plus a paper copy of the Digging Melbourne guide! This will make things much easier.
Moving along Brunswick Street, we're seeing shops are beginning to close. It's a little after 5pm, which seems very early by U.S. standards. But most of the signs in the op shops have 5pm (or earlier) closing times, and we later see in the Digging Melbourne guide that almost all shops have 5 or 6pm closing times as well. We're going to have to get an earlier start the next day.
So stopping for dinner at this point doesn't sound like such a bad idea. We settle on Vietnamese and, thinking of our appetizer at the dumping place in Wellington, I get the roast duck Vietnamese slaw plus a Vietnamese iced coffee. Mike gets a veggie and tofu stir fry over vermicelli noodles. Not bad for our having picked a place at random. Though the napkin solution — a box of tissues at each table — is a little odd.
After finishing dinner, we're just about to walk to a bottle shop (liquor store) to get some local brews to take back to our place when we see a sign in the distance that says "Georges." Wait, is that the George Costanza bar we discovered in our Melbourne city research? *checking the map* Yup! What the heck, let's grab a post-dinner drink there.
Walking into the bar, there is a white subway-tiled foyer with various quotes from Seinfeld scribbled on the tiles: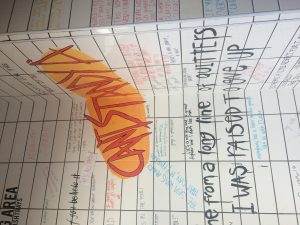 Further inside, there are Seinfeld references everywhere: a Candy machine dispensing Twix bars, two Frogger video games, and original "George" art on the walls. Mike orders a Hand Model (whiskey sour-ish), and I get a Marisa Tomei (pina colada).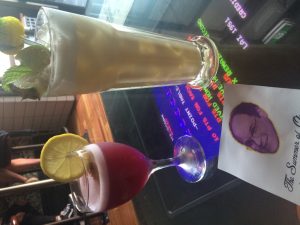 Sitting at our Frogger table, we decide to play a couple of games. It is usually one of the classic video games I'm pretty good at, but my frog dies quickly and repeatedly. Bah.
After drinks, it's definitely time to get some relaxation in before our next show: Flyying Colours! On the walk back to the flat we pass a different bottle shop and decide to stock up on beers. We grab a mixed 6-pack of local bottles, each of us choosing three.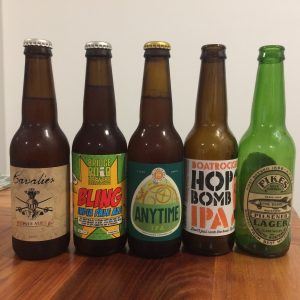 Evening
We have just enough time for a couple of beers and a sit down before heading out again. After all, Flyying Colours are the opener, so we definitely don't want to be late.
The tram route to the venue appears to involve at least one transfer, and being lazy (and wanting to extend our chill time a bit), I call us a cab over. It's a bigger venue than the previous night, maybe the size of Seattle club Neumos, but with two stages. And it's pretty damn empty in here. Clearly the draw is headliner Ash, from Northern Ireland. After all, Flyying Colours are just another local band. (Though obv not to us!)
We're able to stand right in front of the stage, along with the four or so other Flyying Colours fans. Then the red curtains part, the music played over the PA dies out and the band, fiddling with their instruments, is revealed.
We get a 45-minute set of fuzz-pop bliss, including favorites "In the End" and "Not Today." The drummer is rocking the fuck out on the kit, a fuzzy blur in most of my pics. He's also rocking a long blonde mane with shaggy bangs, a haircut that the male guitarist asks the audience to vote thumbs up or down on. (We clap appreciatively — rock on with your bad self, dude!)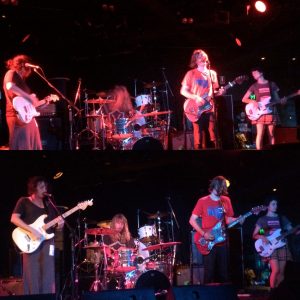 In addition to poking fun at the drummer, the guitarist mentions that they're working on a new album, and that a lot of the songs being played tonight are new, some performed for the first time. Aw, yeah. It all sounds so good! Can't wait for the new record.
Though we'd settle for some current merch. Mike is especially keen on getting a Flyying Colours t-shirt if they have one, as he's down to one clean shirt. (We are both rapidly approaching the need-to-do laundry point.)
So when the band mentions from the stage that merch will be available for sale, we head right over to the merch table at the end of their set. But there's only Ash merch there. Hmm. So we wait. And wait. In fact, we decide to catch some of Ash's set from by the merch table, because hey, the sightlines aren't bad and we probably won't stay for the whole thing anyway. We agree to stay for the first 20-25 minutes of their set and decide from there what to do.
Four songs in — Mike says they sound like Weezer, but I am reminded of the Tony Hawk video game skate-punk soundtrack — we decide we've had enough. Exiting sans FC merch, we are directed by the doorman through a different room to exit. And there, sitting at a booth, are two members of Flyying Colours.
Me: "We should ask them about the merch!"
Mike: "Uh, I dunno."
Me: "Oh, I'll just be forward and do the talking. You want me to?"
Mike: "Okay!"
So we walk over and I interrupt their conversation to blather a little (we're fans! we're from the USA! we loved your set!) and ask about the merch. The female guitarist says oh, it's over at the table. I say we didn't see it, and then she looks flustered and tells us to hold on and she runs to bug the other guitarist, who was apparently responsible for that (oops!).
Coming back to the table, she tells us it's now all set, so we thank her and head back over to the table, where that other guitarist and the drummer are now stationed, with tote bags, badges, and copies of their two EPs and a couple of singles. (Aw, no shirts.)
I buy a vinyl copy of ROYGBIV and Mike gets a badge and pins it to his shirt. We tell the guys that the band needs to come to America, specifically Seattle, so hopefully we'll get to see them again sometime soon.
Exiting the club, Mike and I say to each other: "Worth it!" Because it pretty much always is when going to see bands. I can always remember the shows I regret missing. But regrets the other way around? Very, very rare. (And usually involving stupid festivals.)
Tomorrow night: Robert Forster (again!). Then a break from live music for a few days. Whatever else will be find to do?? Something cool, no doubt. We're only beginning to explore Melbourne's many charms.