March 12
Day 7: Melbourne
Morning
The first big decision of the day is always: where to get breakfast? This is our first weekend day (Saturday), and I had noticed a special weekend menu when at Cibi, the Japanese cafe, the first day we arrived. They offer a Japanese breakfast on weekends that I really wanted to try.
I visited Japan (Sapporo and Sendai) for work in 2013 and loved the savory breakfasts there, with rice, pickles and fish. So since Mike was game, we decided to check it out.
Looking at the menu, I see that pickles are not included as part of the standard breakfast. But they are part of the deluxe version — yay! However, also in the deluxe breakfast is natto, which I usually cite as one of the few foods that I don't eat. It's a fermented beam dish that, taste-wise, I don't have a problem with. But as part of the fermentation process, the beans turn… sticky. Mucilaginous, really. Texturally, not my thing.
I order the deluxe anyway, figuring I'd at least check out the natto. Mike gets the regular, so between us we can share the pickles. And when the plate of food and pickle platter arrives, does it look good: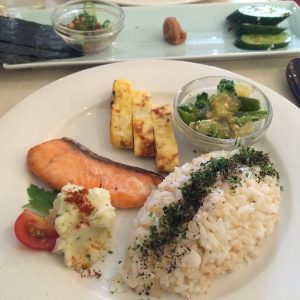 The deluxe side platter has some strips of nori along with the tiny bowl of natto, salted plum, and cucumber pickles. So I make a couple of tiny nori rolls with my omelette and salmon and rice. And yes, I try the natto. It's actually pretty mild and not terribly sticky, though I do have to untether each bite, attached via spiderweb-like strands, from the bowl. Overall, a very different and delicious breakfast, a version of which I'll need to track down closer to home.
Afternoon
What follows is another blur of record, book and thrift shopping, again mainly in the Collingwood area. One store of note is Vinyl Space, about a 15-minute walk from our flat. I find another a 7″ w/poster sleeve of my favorite Split Enz song and a Dick Diver 7″ + CD.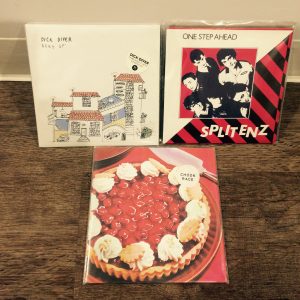 Or, rather, I should say we find the Dick a Diver single, as Mike and I grab for it at the same time. Uh oh! There is a good-natured, 2-second tug-of-war before I broker a compromise: I keep the vinyl, he keeps the CD, and we share both. Deal!
After hitting another op shop on the same block, I need a coffee and we both realize we need food. We're both also tired because it's gotten quite hot, and we're not used to the sun and 80-something degree weather.
An espresso place a couple of blocks away has food, so we take a seat. We both zero in on a menu item featuring another delicious foodstuff that is not frequently found in the U.S. but is everywhere here: halloumi cheese. Shoving our grilled halloumi cheese sandwiches in our mouths, we vow to eat more of this when back in Seattle.
It's already after 4pm, so now we need to worry about record stores starting to close once more. There is one very interesting-sounding store that I want to check out but it's waaay out in the suburbs so it would require an expensive round-trip cab ride. But the store recently posted on their Facebook page about getting copies of the first two Clean singles in stock — even though I have both already, if that isn't a mark of quality, what is?
So we call a car to take us to Vicious Sloth, which is a store that is on a leafy block with hardly any retail. It is really is in he middle of nowhere. But they have a very nice selection of very carefully cared-for and researched records, as reflected in the prices. If I were an Australian looking for UK post punk classics without having to travel abroad, I'd have been overjoyed. But these were records I'd seen time and again in the U.S. and on trips to London over my 25+ years of record shopping, and I had already long ago bought the ones that interested me. The record by the Young Snakes (early Aimee Mann band) on the wall was pretty interesting, though. Hadn't seen that one since I lived in Boston.
However, I did find a Chook Race single and also ended up buying a reissue LP by early 80s Aussie post-punk band the Sunday Painters, a band brought to my attention by a recent Facebook post by a fellow WHRB radio station alum. Perhaps not worth the trip, but I always would've wondered about the store with the Clean records if I hadn't checked it out.
Evening
By the time we get back to the flat, it's getting late and we've got another show tonight (5th night of live music in a row!). We try another couple of Australian beers before taking the tram to The Toff for night #2 of Robert Forster and a different local band as opener.
We get there at around 8:15 but see that the first band goes on at 8:30, and we are both hungry again and haven't had dinner. Time for desperate measures: specifically, the 7-Eleven at the corner where we grab granola bars plus an egg salad sandwich for me and a cooked tuna sushi roll for Mike. We sit on a bench on the street and wolf down our gourmet dinners. (I actually don't mind the egg salad — it's been my convenience store dinner of choice in at least three different countries.)
Running back upstairs to The Toff, we enter the club for what I assume is the first song by opener Scott & Charlene's Wedding. They're really good! Rollicking garage pop with shouty boy/girl vocals and songs about awkwardly dancing like a crab and hanging out with kangaroos in the bush.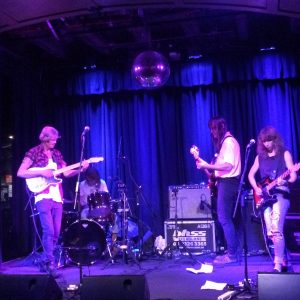 Near the end of their set, the lead singer thanks his hero and inspiration Robert Forster for having them play that night. Aw!
We both want to buy something when the band is done, as they have a merch table, but no one is manning it. After lurking by there for a good 10-15 minutes, and with the club filling up, we move to stake out spots close to the front of the stage once more.
This is where things get kind of weird, as patrons and people from the venue start dragging chairs and tables from the back bar onto the main floor by the stage. Mike and I are now just standing there next to this line of seating, all by ourselves. But our view is still good, so who cares.
Then the Scott & Charlene's Wedding folks appear at their table, so Mike heads over to grab us some CDs and a cassette that we'd earlier scoped out. Oh, and I ask him to ask the band what their favorite record store in town is. Research!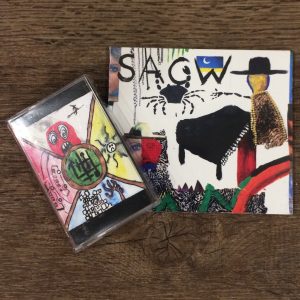 Mike returns with the goods just in time, as the curtain is about to open for Robert Forster and his band. And there he is, trousers and button-down shirt and electric guitar.
They begin with the same two or three new tunes before deviating slightly in the set list. There is less variation in the songs played than I may have expected, but I had no issues whatsoever with being able to hear the same wonderful songs played by Mr. Forster and his crack band once again.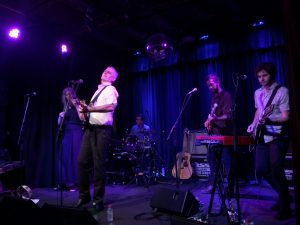 The song changeups were also largely like-for-like: instead of quiet Go-Betweens classic "Clouds" (from 16 Lovers Lane), quiet Go-Betweens classic "Part Company" (from Spring Hill Fair); "Spring Rain" instead of "Draining the Pool For You."
The crowd demanded not one, but two encores (yes!), and Forster once again closed with his mesmerizing version of "Danger in the Past," before the red curtain closed on the stage for the last time.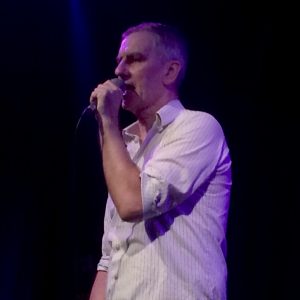 So I'm grinning and sad at the same time as we head to the tram stop, hoping Forster (with that band!) will make his way back to the U.S. someday. A girl can dream, though I'm not sure that I do that night as my head hits the pillow. But I'm looking forward to a lazy Sunday and an early, show-less night the next day as Mike and I continue to explore the city.