March 18
Day 13: Byron Bay/Brisbane
Morning
For once we're moving on to another city without having to fly there. So we can sleep in (a little) and avoid having to pack our bags with military efficiency. Besides, I deserve a little extra sleep: it's my birthday!
Our host had mentioned that she would bake some bread for us as part of our complimentary continental breakfast. And, sure enough, when I get up that morning there is a small paper bag outside our door with fresh-baked whole wheat bread inside. We toast it up in the in-room toaster and spread with peanut butter (Mike) and butter and jam (me). We also grab a banana and a couple of local cookies from the fridge but pass on the tea. (As if it isn't clear by now, I'm a coffee gal.) I want to try one this espresso joint in town we passed by yesterday anyway.
Into town and I get my morning flat white before we're ready for a drive. We plan to stop in nearby coastal town Byron Bay before heading up the coast to Brisbane, where we'll be staying for the next two nights.
It's sunny out, we've got more music on the stereo, and we're looking forward to seeing the ocean. A good start to the day. We get to Byron Bay soon enough and find a place to park on one of the main roads right by the beach. Ah, here's the big commercial strip. Much more like parts of modern-day Key West than sleepy Bangalow. Convenience stores and surf shops and cheap towel and flip-flop vendors? Check.
We don't have too much time to spend in Byron Bay, as we absolutely, positively need to return the car in Brisbane by 5pm, when the rental office closes. And it's an approx. 2-hour drive to get there. So we decide to forgo actually swimming in the ocean, though we'll wade in as far as the length of my skirt and Mike's shorts will allow.
Opting out of using our sunscreen again, even though it is very hot and sunny (I know, I know!), we make our way over to the beach. I do have my sunglasses and dorky hat on, though. We creep down a rocky pathway to the incredibly fine sand and take off our shoes. Commence much toe-wiggling — ahhhhh!
Off in the distance, we can see surfers catching waves as the water breaks in decent-sized swells. We wade out into the water, which is really lovely: clear and warm.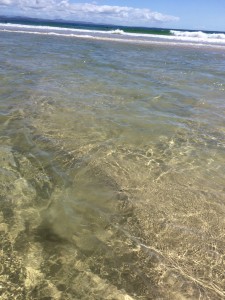 The waster depth increases to about knee level before it becomes shallow again, where there is a little sand bar before it dips once more. We make our way out there and just chill, watching the surfers and the water.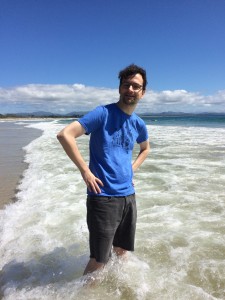 Then Mike does an arm check and notices he's starting to get a bit redder. I check my arm: same. Uh oh. We make our way back towards shore a little, so we don't get caught on the sand bar should the tide be coming in. But we finally decide we should get out of the sun, though not before a little beachcombing. As a kid I loved looking for shells on the beaches of Sanibel Island, on Florida's Gulf coast, so I note the different shells here with interest. We each grab a few small ones then wander back over to our shoes.
Sandy and hot, we look for a place to get a drink. I'm also seeking something with vitamin C, as I'm finding it hard to shake the low-grade cough-and-sniffle I seem to have picked up in Sydney. I feel generally fine, but I sound like a frog.
We stop at a convenience store for a mango-banana-lychee drink when we spot the adjacent chest freezer filled with… locally-made ice cream sandwiches! I dig through every goddamn sandwich in search of the variety with espresso ice cream advertised on the sign, but I come up empty. Ah, well. A classic chocolate cookie and vanilla ice cream will do. Mike goes for the chocolate chip cookie with strawberry ice cream.
Munching our sandwiches and sipping our drink on a sidewalk bench, we agree that we've probably reached our maximum sun exposure for the day and should get back in the car and resume our journey to Brisbane. Besides, once we get to Brisbane we have a few required stops before we need to return the car.
Afternoon
What better music for driving to Brisbane than Brisbane bands? We start with the debut album by The Goon Sax, released just a week earlier. So good! Angular and jaunty, with hummable melodies and lyrics about ice cream and longing.
As we creep closer to Brisbane and The Goon Sax record ends, it naturally time for music from another band hailing from our destination city: The Go-Betweens. Mike puts on the bonus live disc from the Quiet Heart compilation I bought at Red Eye in Sydney, which kicks off with my favorite Go-Betweens tune: "Unkind & Unwise."
Here's the part where I nerd out about the Go-Betweens a bit, telling Mike…
…how cool it is to hear the different versions of the songs as played by the varying lineups over the years! And how singer/songwriter Robert Forster likes to make slight lyrical tweaks in his live performances. Like, when I saw him in the 90s he would change the second part of the "Head Full of Steam" line "opened the windows for the neighbors to see/her climb on my knee" to "her climb onto me." But when we saw him at The Toff in Melbourne he reverted to the original lyric, I wonder why…
(Yes, I should just shut up now and write my academic paper about this.)
Anyway, my geeky tangent becomes more relevant (if no less geeky) as their version of "Head Full of Steam" from this live set comes on. Then we get to that particular line — what variation (if any) will there be? Forster sings:
…opened the windows for the neighbors to see
her fuck all over me
!!!
I burst out laughing, and Mike gives me a funny look, as he didn't quite catch that. So I repeat the line. And giggle some more. Way to be direct, Robert.
The Go-Betweens continue to play on the car stereo as we enter Brisbane, headed for our first destination related to this, my favorite band. Where are we going? The old house of the other main Go-Between: Grant McLennan.
I happen to have his address from when I interviewed him back in the 90s. He'd scribbled it on a piece of paper and handed it to me, encouraging me to write. It's something which — to my great regret — I never did, as he died in his sleep of a heart attack in 2006. Anyway, his house close enough to where we were going, and a little piece of Brisbane history to me, so why not?
We find the street and park just around the corner. Grant's street is very quiet on this Friday afternoon, the only signs of life being a couple of utilities workers and those very loud birds in the trees overhead. After a few minutes' walk we come close to the end of the dead end street, and there is the street address on a mailbox by the sidewalk. I peek up the walkway to the modern-looking bungalow set back from the street. Nice house.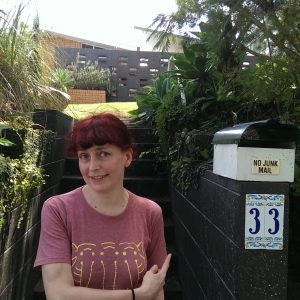 After a few photos, we wander a little further down the street in hopes of a view, as we appear to be on a hill. But there are too many trees and bushes. I bet the houses have great views. Perhaps that explains the house to the right of Grant's, where the structure that is actually immediately adjacent is… a private tennis court.
Go-Betweens stop #1 complete, we have just one more (thank you for humoring me, Mike!) before commencing with our usual record shopping routine. We're going to visit the Go Between bridge. It's a bridge that spans one section of the twisty-turvy river that flows through Brisbane, opened in 2010 and named in honor of The Go-Betweens.
I'm thinking we can find it, then park somewhere nearby and walk over the bridge. But there doesn't seem to be any adjacent parking, and traffic is getting kind of heavy (it's a Friday afternoon), so I settle for driving over, taking a picture of the sign from our car just before we do: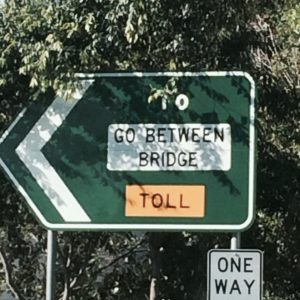 Pilgrimages completed, we're now off to the West End neighborhood, which is the furthest away from our Airbnb that has cool stuff to explore. And I was feeling anxious about the time we have left with the car, as we absolutely must return it by 5. But it seems earlier than I'd expected — what gives?
Mike figures it out first: when we entered the state of Queensland we crossed into a different time zone, where the clocks are one hour earlier. Hooray!
We park near the center of the West End area, and begin to walk around. There's The Bearded Lady, the pub where tonight's show is. A good local band that Mike discovered randomly on Soundcloud, Tree & Ray, are on the bill. Next door is an op shop where I find a weird Bulgarian Bowie shirt. AUS$6? Sold!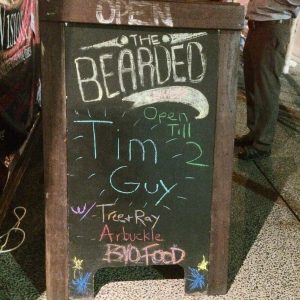 Then we start walking in the direction of the first record store on the map when we see the sign and cool-looking exterior for Junky, the comic shop we'd put on our Brisbane city map. So we decide to check that out first.
Walking inside, the first thing we see is a table full of nothing but small, indie comics. Yeah!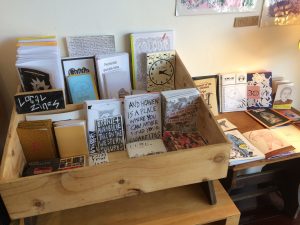 As we start to browse, "Pink Frost" by The Chills comes on the store stereo. Another good omen. In fact, Mike deems this easily the best comic shop of the trip so far, as he stacks up comic after comic in his purchase pile.
The clerk at the counter is super-friendly, too, giving additional details about the items that Mike has picked out. We mention we're from Seattle and she asks if we know Simon Hanselmann, and Mike says, in fact, he's friends with his wife. We make a mental note to tell anyone we know planning a trip to Brisbane about this awesome store.
After a short break for conveyor belt sushi and feeding the parking meter, we cross the street to Jet Black Cat Records. It's a tiny shop with virtually all new records. The only thing I find I hadn't seen elsewhere is a Dick Diver 7″ that actually was on a U.S. label, but not one I knew and nothing I recognized. Mike eyes the (excellently-designed) store-branded tees.
We've all but exhausted our shopping options in the West End, as the record store on our map, a Brisbane branch of Egg Records, appears to have just recently closed. Bummer.
But there's another op shop a 10-minute or so walk away. What seems like a short detour becomes a bit wearying in the late afternoon sun and heat. When we get there, we see enormous and unruly stacks of records in a corner by the front… plus a dude sitting on the floor in front of them who seems to be camped out. I start going through a rack of nearby t-shirts while this guy sloooowly inspects a couple of records without actively flipping through any. Move your butt, dude!
While waiting, I do find a wool Icebreaker tee for only AUS$3, which may be a little small, but the price is right. The guy finally moves and we start rearranging the stacks for optimal flippage. Mike sees a Moog instrumentals LP featuring "Popcorn" and an excellent popcorn-filled cover, and hands it to me. Thanks! We slog through the rest without finding anything else similarly cool. Time to high-tail it back to the car before the meter runs out.
We're about to walk by Jet Black Cat again, and Mike decides he wants a t-shirt from there. So he breaks off to get that while I babysit the car. I roll down the windows but the car is an oven. Thankfully the t-shirt stop is quick and we're off towards the central business district, where we hope to drop our bags at our Brisbane Airbnb.
Mike is doing his best to navigate, but the streets wrap around each other in the most puzzling ways. Google is giving us directions that seem bizarre, telling us to do wide loops with lots of quick turns in succession. While I have gotten used to driving on other side of the road, I'm hot and tired and starting to get cranky from the challenge of driving Brisbane's streets in medium-to-heavy traffic. (Is this what visitors to my native Boston feel like driving there for the first time, I wonder?)
After multiple misnavigations, we finally make it onto the road that loops around the park on which the buildings in our Airbnb host's complex are found. We're a little over an hour earlier that we'd last communicated our arrival to be, but I don't figure it's an issue since it's after 4pm anyway.
I message our host before we take our bags out of the car, just in case. And a few minutes later, the reply: no, he is not at home right now. But he will be at 5:30pm, as we'd previously said. Ugh. Guess we need to drop off the car now and do the 20+ minute walk back to his place from there with all of our bags.
But first we need to find gas, and I'm starting to get anxious about the time (around 4:20 by now) given how hard it can be to get from point A to point B by car in this city.
So I ask Mike to Google for gas stations along the way, but oh wait, he's using his phone to navigate. Here's my phone, but I guess trying to do two things at once isn't smart and — oh no! — Mike's phone is about to run out of battery power, and I guess my phone is for navigation now. And maybe we should just find the goddamn Hertz already so I can at least ensure we are able to find that before they close.
So we make it to the Hertz, which is good. Less good is the fact that we found no gas stations along the way, Google Maps indicates there are none nearby, and this location closes in just 20 minutes. I resign myself to eating the cost of having Hertz refuel the car, even though I estimate that will run us an extra $50 (American dollars). What a good guesser I end up being. *sad trombone*
Evening
The flexibility of having a car was awesome, but I'm very glad to get out from behind the wheel. Though now we need to schlep our increasingly large load to our Airbnb. This is not fun. Not only is the distance pretty far given the amount of luggage we have, but we need to get to a road on the other side of a train station and we can't seem to figure out how to do that. Cue montage of exhausted trekking-back-and-forth-through-the-train-station, sweating, drinking water, and collapsing on stairs checking Uber even though Google at this point says it is a 5-minute walk.
The only good thing along the the way is my spotting this rad hotel: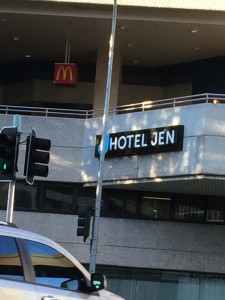 Then somehow we manage to find the right corridor that seems to align with the map, and we get special passes from the station agents to let us cut through the paid train station area at no charge. We exit into a parking garage, then down to a weird underpass where, after yet more backtracking, we figure out we need to take the elevator in the second parking garage on the other side of the train tracks upstairs to… the ground floor of one of he buildings in our host's complex. Finally!
Our host, Nick, is thankfully home, and we ignore his messy common area as we are led to our room and collapse on the bed. Two hours til showtime, and we need a little bit of rest.
When we've finally recovered enough to head out, we're given the lone key to the apartment as Nick says he will be in all evening. One key to share between us? This makes me uneasy, but what can we do?
Taking a cab back out to the The Bearded Lady, we scope out the situation, where the barman indicates that the first band won't actually go on til around 8:30. However, we do note the sign saying that outside food is welcome, so we scrap our original plan of eating somewhere nearby in favor of getting takeaway and bringing it to the bar to eat with a couple of local brews.
There are a lot of restaurants the main commercial strip, but none the food looks especially appealing. It's only by chance that, about five blocks away, I notice something across the street that looks like a food truck. So we cross and check it out only to find… an enormous street food fair! There are tons of food stalls in an area around an entire city block in size.
I'm feeling both giddy and overwhelmed by the options, but we make the rounds of every single stall, sampling a few things along the way. After conferring, we decide the winner for tonight: Sri Lankan! I get a cinnamon-spiced chicken curry with rice, papadams, roti and a spicy coconut chutney. Plus one urid dhal vadai, a tiny savory donut that I eat while waiting for my main meal.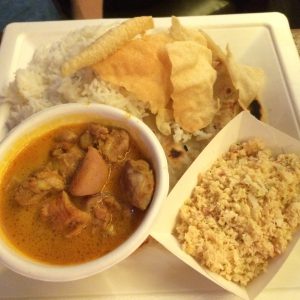 We oh-so-carefully shepherd our overloaded plates of food through the crowds at the food fair and down the street back to The Bearded Lady. After the day's labors, it tastes especially amazing, and we wash it down with pints of local beer on tap. Then we head into the main room where two cozy lounge chairs with an excellent view of the stage are just waiting for us.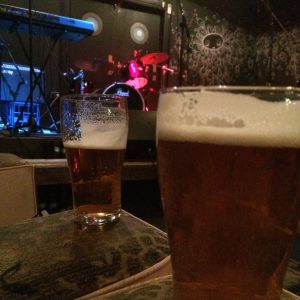 The band we already know and like, Tree & Ray, will be on first. Someone (the headliner?) comes around with a donation box for the bands, as there is no official cover charge, so we kick in. Then Tree & Ray are on. And we get a set of exuberant jangle pop with a helping of surfy organ and guitar style.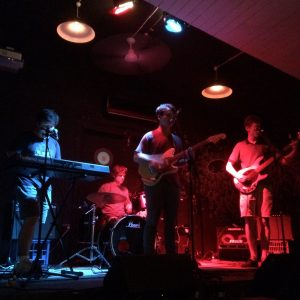 Once the set is done, Mike and I look at each other: yes, we need to purchase something. There is no merch table, so Mike approaches the singer/guitarist and asks: are you selling anything? The answer: yes! He needs to get the merch, but Kirby (as he introduced himself) has 7″ singles, CDs and t-shirts.
Kirby heads off then returns shortly with a large box. We'll take a single and a CD each, please! He's incredibly nice and we have a good talk about Seattle and its music scene, how much we are digging Brisbane so far, and the happenstance way in which we discovered his band. Kirby cuts Mike a deal on a t-shirt and now we're fully stocked with Tree & Ray merch. Too bad we no longer have access to a CD player.
At this point I'm feeling pretty beat, so I tell Mike that I think that maybe I can make it through the first four songs of the next band, but that's about it. He's cool with that and we settle back into our comfy chairs… and maybe get a little too comfy. I manage to stay for the whole of the next band's set, mostly through inertia, but at that point I am struggling to keep my eyes open. Mike says about as much, so we take off before the headliner appears — a very rare occurrence for us, skipping out early on a gig — because we literally cannot stay awake for much longer.
A cab delivers us back to our Airbnb where we vow to get a good night's sleep so as not to waste our one remaining day in Brisbane. And so we can fully enjoy the epic Blank Realm/Thigh Master/Terry show the next night.
It was a birthday filled with many of my favorite things, along with my favorite person with whom to share them. I see a couple of birthday messages from friends — the U.S. east coast is just waking up and I forgot we've been living a day ahead of most everyone we know — then fall right to sleep.