EMP Pop Conference – Saturday/Sunday Recap
Why yes, I did go to PopCon on Saturday and Sunday as well. Following on my post a few days ago about my Friday Pop Conference experience, below is my belated recap. Though I (and a lot of other people) tried to tweet the highlights via the #EMPPopCon hashtag.
SATURDAY / Session 1: Proto-Punk Explosions
This wasn't the first session of the day, but it was for me, especially since the subject matter – NY 70s punk and beyond – is 100% in my area of interest.
Lisa Jane Persky, "X-Offenders: A Typical Day in the Life of a Proto-Punk, 1976"
Due to traffic (reminder to self: it's never a good idea to take I-5, dummy) I arrived midway through Lisa Jane Persky's talk. But even though I missed the first half, I was thoroughly enthralled by the second. Persky lived the NYC 70s underground rock-n-roll lifestyle, working at the Hotel Chelsea, mingling with artists, poets and musicians there and across the club landscape including CBGB's and Max's Kansas City. She captured not just the rhythm of life in that scene, but how it came to change as record label attention and money started to flow in, along with suburbanite tourists into their former playgrounds.
Kembrew McLeod, "Forget Absurd, It's Ridiculous! New York's Downtown Underground Theater Scene Sets the Stage for Punk"
Kembrew McLeod's talk was a perfect continuation of the broader theme, as he demonstrated how underground theater was a vital force in the downtown music scene at that same time. Max's Kansas City was, as he put it, the place where scenes merged: the drug scene, music scene, gay scene, theater scene. His description of the musical "Cockstrong" and it's, uh, climactic moment (and the umbrellas needed by the audience) was especially vivid. And that queer, artsy vibe extended to Blondie, as we saw how Debbie Harry evolved from her initial group, the Stilettos, into a persona that was in part inspired by drag queens and the theater scene.
Ali Colleen Neff, "Mutilating Modernity: Iggy Pop's Unstable Body and the Political Aesthetics of Punk"
Closing out the session, Ali Colleen Neff traced the roots of punk through Iggy Pop, who was mutilating himself onstage in the Stooges well before the mid-70s. A highlight was a clip of him on a talk show being asked about his shocking onstage antics and his being both charming and blasé about it.
Lunch / Damon & Naomi Perform Fortune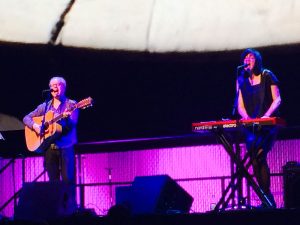 I had just enough time to grab lunch at the Seattle Center Armory and ferry it back to the EMP before (almost) the beginning of an audiovisual performance by Damon & Naomi in the Sky Church. They started with a few songs, no visual accompaniment, before launching into their new album, Fortune. It's the soundtrack to a film by Naomi Yang, so we were treated to a presentation of that on the massive screen behind both performers as they played. Described in the program as "a long-form music video, a visual poem set to the metronome of a textural score," it was indeed somewhat cryptic, but very well-suited to the introspective and atmospheric music, which washed over us as visuals of tarot cards, Maine countryside and house interiors unspooled onscreen.
After the film, we got a few more songs, including one introduced simply with "this is another cover": "Listen, the Snow is Falling", a Yoko Ono song that also appeared on the final Galaxie 500 album.
SATURDAY / Session 2: New Wave Invasions and Evasions
From proto-punk to new wave, I continued to follow this train along the track of my interests. And none of the speakers in this session disappointed. In fact, you can listen to the full audio of it here.
Sean Nelson, "Has the World Changed or Have I Changed: Revisiting Morrissey's Artful Evasions"
Stranger arts editor Sean Nelson kicked things off with a very personal exploration of Morrissey and the trials of being a fan. Staking his claim by saying he has "always been squarely in the 'scratch his name on my arm with a fountain pen' school," Nelson nonetheless proceeded to lay out the many ways in which Morrissey's behavior over the years has made it difficult to disentangle his persona from his music. A highlight was a recitation of Morrissey quotes from the 80s to the present day, with the subject matter veering from the more predictable (vegetarianism) to head-scratching (the London Olympics).
Evie Nagy, "Nerds to the Front: Devo and the Geek Rock Revolution"
Author of an upcoming book on Devo's landmark 1980 album Freedom of Choice, Evie Nagy expertly examined Devo's (oddball) place in the musical era – the late 1970s – in which they began to flourish commercially. In 1978, "self-deprecating geekery was not in", and Devo's anti-posturing was novel. She described how instead of simply writing specific breakup songs, they owned up to generalized, ongoing rejection and embraced that weirdness and awkwardness. And Nagy got off the most memorable line of the session: "I'm going to call bullshit on the idea that Weezer are part of [Devo's nerd-rock] lineage." …To which she was greeted by an enthusiastic round of applause from the audience.
Alfred Soto, "The City is Quiet, Too Cold to Walk Alone: Marc Almond, Jimmy Somerville, Neil Tennant, and Queer Presentation in Eighties England"
The next talk was a look back at queerness, and how it was manifested in varying degrees by popular synth-pop artists of the 80s. We were treated to a number of fabulously of-the-era videos, including "Domino Dancing" by the Pet Shop Boys which gives the works of Frankie Goes to Hollywood a run for its money in terms of mass-culture homo-eroticism in heavy rotation on MTV. But that was part of the point: as fairly circumspect performers, in presentation and style, a band like the Pet Shop Boys wouldn't necessarily get tagged as "queer" by the mainstream.
=-=-=-=-=-=-=
And there ended my Saturday PopCon sojourn, though I would pop back one more time the following day for this stellar wrap-up session:
SATURDAY / Session: Mainstream Mutations
The JBL theater was pretty darn full for the final session on a Sunday morning, and it was clearly due to the talent that had assembled to entertain and inform us before sending us on our separate ways. And hey! There's audio of the whole thing here.
Chris Molanphy, "UnLennon–UnMcCartney: Considering the Only Three Beatle Compositions to Hit No. 1 Without Lennon or McCartney"
Bringing his usual chart-whiz statistical eye to a topic, Chris Molanphy gave us a whirlwind tour through three notable Beatles covers. His talk was jam-packed with tons of interesting trivia about the success (or lack thereof) of various artists' Beatles covers, noting that a close relationship (inclduing some professional back-scratching) between Elton John and John Lennon likely contributed to the former's #1 cover of "Lucy in the Sky with Diamonds" – even if it failed to endure as an album rock staple. His recitation of the longest song title ever for a #1 song in the Billboard charts was especially amusing, as the #1 Dutch "Stars on 45" disco mashup/medley that included various Beatles snippets was not allowed in the U.S. to simply be called "Stars on 45". No, the names of every single song referenced needed to be part of the title. Mercy.
Stephen Thomas Erlewine, "Clones (We're All): Paul McCartney and His Temporary Secretary Looking for Clues in the Fallout of Punk, Disco, and New Wave"
Touching on a theme also covered in Evie Nagy's talk, Stephen Thomas Erlewine looked at how the musical landscape changes of the late 70s/early 80s affected what might be considered establishment artists: people like Alice Cooper and Paul McCartney. He cited the former as definite miss (on his new wave-attempt LP: "Good ideas are botched and the bad ideas executed expertly") and the latter a surprising hit, with McCartney's electronic explorations on McCartney II as largely successful.
Keith Harris, "The Mall Gaze: Tiffany's 'I Saw Him Standing There' Looks Back at the Beatles"
Keith Harris unabashedly proclaimed his teenage love of both the Beatles and Tiffany, giving us a snapshot of how difficult it was to be a fan of the Beatles, in particular, when those damn boomers kept trying to tell you how damn important they were. And how the commercialization of their music – such as the Nike "Revolution" ad in 1987, the Tiffany and other covers – exposed a preciousness about the Beatles that was, well… rockism in an early incarnation.
Maura Johnston, "The Buttons and the Pins and the Loud Fanfares: The Adoption of 'Beatles-esque' Elements by Late-80s Pop Outfits"
Rounding out the session, Maura Johnston gave her own teen-influenced take on the Beatles. Playing clips by New Kids on the Block and her beloved (hair) metal bands, she showed us how "Beatlesque" harmonies, chord progressions and other musical tropes now long-connected to the Fab Four were popping up everywhere in the late 80s/early 90s. Perhaps as a reaction against overly-synthetic musical concoctions of the not-too-distant past, bands could get some analog cred, or just make their tunes stand out on the radio, by looking back a little further musically.
And then…
We had the most epic Q&A session ever, with panelists and audience members blurring into a whole, like a really big bar where everyone has their drinks in hand, ready to talk shit about music. And when something like 90% of people with questions are called-on by their first names, you know that yes, we're all (mostly) friends here, and we probably could just take over a bar and debate exactly what does "Beatlesque" mean? What period? And what other bands were mining this vein at the same time? When did it begin? Is it possible the New Kids on the Block had heard XTC? As attendee and speaker Devon Maloney put it on Twitter:
THIS ROOM (/CONFERENCE) IS FULL OF THE BIGGEST NERDS I HAVE EVER KNOWN. LET'S ALL STAY HERE FOREVER. #EMPPopCon

— Devon $. Maloney (@dynamofire) April 19, 2015
Yup.