March 19
Day 14: Brisbane
Morning
I've set my alarm on the early side again. Yes, I want to get in some writing. But, more importantly, I need to call Hertz as soon as their Brisbane office opens at 8am. Because in my haste to ditch the rental car yesterday, I left my Go-Betweens live CD in the car stereo! And I need to get it back before the car gets rented again or shipped elsewhere.
So I make a half-awake phone call at 8am sharp and the person on the other end of the line asks for my rental car details when I explain what happened. After a short wait, the verdict: they have my CD! I'm given a lost property number and told I need to pick it up by 1pm, which is when they close. Such relief. Now I really need a coffee.
There isn't much of anything in the immediate vicinity of our Airbnb, so I decide to walk over to the other Brisbane neighborhood we'd researched with interesting stuff in it. It's not even 9am, but the temperature is already pretty warm, and the sun is out. I don both my hat and sunglasses but once more can't quite commit to the sunscreen. At least the walk, which takes me through the park and along an elevated walkway by the rail yards, is very pleasant and scenic. There are a lot of people out and about, including a good number of cyclists.
I find out one reason for the active street scene along my walk, as I pass a very long line of people waiting for something. As I get closer, I can see people clutching pieces of paper in their hands and signs of a political nature. Ah, people are waiting in line to vote.
I cut through the line and walk a couple of additional blocks until I see an ATM. (Boy, how cash does disappear fast when you're on vacation.) As I'm about to get out cash, I turn to see a sign above for a record store I hadn't found on my research. Will visit that later, when Mike is with me. No solo record shopping! Wouldn't be fair.
The coffee place with supposedly the best coffee in all of Brisbane is, as I find upon rolling up to their storefront, closed until 4pm. Huh. I pass a pretty good-looking Japanese coffee place, but I decide to go with my second choice a few blocks away. It's called Brew and is down an alley in a basement.
And it is blessedly air-conditioned (unlike our Airbnb room, grrr). So I get my flat white and a couple of poached eggs on toast and settle in to write, though not before texting Mike with my location and a warning about the heat/sun today.
After almost two hours (and another flat white) in the cafe, I'm a little restless and ready to do a little exploring. Mike texts me and I let him know I'm on the move.
Interestingly, while this area does have the best record store in Brisbane, it also happens to be the central business district. All around are malls and chain stores in amongst the independent businesses. So walking around is a bit of a different experience than the typical record-store-friendly boho neighborhood ramble.
In fact, I feel compelled to check out the mall nearest me. The ground floor has a big food court with a lot of actually pretty tasty-looking food being sold by various vendors. The large Chinese-Australian bakery has a very eye-catching displays of rolls and pastries.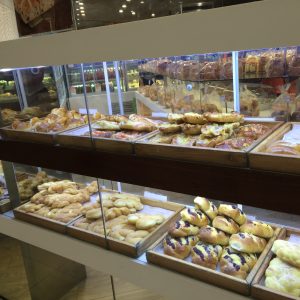 Upstairs is a Target, which I visit for both the novelty as well as for resupply purposes (mini Kleenex and granola bars). Curiosity sated, I take the escalator back down to the ground floor Starbucks for an iced tea while I wait for Mike, who is on his way.
He arrives in short order and is hungry, so I give him the lowdown on food options based on what I've had and seen. We opt for the Japanese cafe, which also has an enormous display of flourless chocolate and other cakes in various flavors, sold by weight in 100g increments. Their coffee menu has some of the many common options in Australia, as well an odd note that medium drinks are for dine-in only.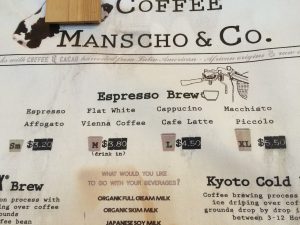 Mike gets some smoked salmon breakfast dish while I get a coffee and we discuss our plans for the day. I mention both the random record store and a comic book shop I passed earlier as items to add to the agenda.
But wait — I remember my lost Go-Betweens CD, and Hertz is right around the corner from us now and will be closing in a little over an hour. So I walk over there to retrieve it while Mike starts in on his breakfast. The woman behind the counter who retrieves my CD looks at it curiously, so I mention it's a local Brisbane band. She says she doesn't know that much about music, but the band name sounds familiar and she'll ask her husband about them. He's very into music, as per the many iTunes charges that appear on their credit card statement every month, she shares. Okay then!
I get back to the cafe and we finish up, ready to head over to Rocking Horse Records. But somehow — I think via a discussion of laundry, and how desperately we need to do it, yet won't be able to for another two days — we end up at Target. Mike needs socks, stat.
Socks are procured, along with more underwear for the both of us (it's cheap, so why not?). And now we are finally ready for some record shopping, goddammit.
Afternoon
Rocking Horse Records is a big, lower-level shop in the style of Red Eye in Sydney, with lots of used vinyl and CDs as well as a decent selection of new releases. We take a brief stroll around some of the store and figure, yep, we'll be here awhile.
The Aussie and NZ LP section yields no real surprises, though I am happy to see two Go-Betweens records in front of the relevant bin card. It contains one of their worst records (the "Cut It Out" 12″) and one of their best (the Able Label comp of their first two singles). I am a wee bit tempted by the latter, as it's the Australian pressing, which I don't have. But it's priced at AUS$40, so I'm able (ha) to resist.
There's nothing we haven't already seen or bought in the new 7″es bin, but in with other LP new arrivals is a used copy of the first Day Ravies album, which I scoop up.
Wandering around the store perimeter, I notice glass display cases, many filled with toys and various music memorabilia and rarities. Then I spot it: a stack of old Go-Betweens singles on the top shelf of one of the cases. Could the clerk kindly unlock it so I can get my grubby hands all over them? Thank you!
I zero in on two records I don't have: Australian pressings of the "Bye Bye Pride" single in plain, record label sleeves, each with different b-sides. I'd ordered a copy of one of these from an Australian seller many years ago, only to have it arrive at my door snapped in half, the victim of poor packaging. These copies aren't especially cheap, but they are reasonably-priced, so I waver a moment before pulling them aside for myself.
Seeing my interest in this pile of singles, the clerk calls out to another behind the counter: we have more Go-Betweens records, don't we? And then another pile is magically produced, adding to those spread out on top of the display case. The "Your Turn, My Turn" single on Missing Link, the Australian pressing of "I Need Two Heads" in the exclusive picture sleeve, a copy of "Cattle and Cane" on the NZ Stunn label. All very nice indeed. And, given they are priced from AUS$60-100 each, all thankfully already in my collection.
We've been saving the next section of the store for last: the used 7″ singles, of which there are very, very many. All the rock singles are mixed together (no separate alt/indie section), across all eras, some with picture sleeves but many without. As our tastes are relatively narrow, browsing through this kind of broad selection can sometimes seem like a slog. 90 percent of the records without picture sleeves don't fall anywhere into our area of interest, so it's tempting to skip those altogether.
But Rocking Horse's selection had just enough good enough sprinkled throughout to keep us engaged and digging, digging, digging. There's a lot of American 90s indie rock, plus less underground British quasi-indie and alt stuff from the same era. Some records are cheap, others require a good think, but we pull a bunch of records out to make final decisions on later.
At this point, my lingering cough/cold decides to make a most unwelcome reappearance, in the form of a sudden itch in my throat. It causes my eyes to water and starts a coughing jag that sends me upstairs in search of a convenience store where I can get water and some cough drops.
I get both (the drops are butterscotch-menthol flavor, very odd) and return to the store, where Mike is waiting, looking at me with some concern. I'm sucking on a cough drop and feeling better, I say, so we pick up where we left off.
At the end of the long, long singles bin, on flipping our last 45, we do a high five and spread our records out on the adjacent counter to consider. I actually put a couple of nice-to-have-but-inessential things back. I'm getting pickier as we accumulate more and more records, especially after yesterday's slog. But at the end we both have small stacks of singles, none knockout finds but all pretty cool. Plus I have those Go-Betweens singles and the Day Ravies album.
Another nice chat with another friendly store clerk — having to get a signature with my funny American credit card is always a conversation-starter — and we're taking our purchases upstairs into the Brisbane sun once more.
At this point we're both hungry again, but clueless as to where to go. Our first choice turns out to no longer be in business, and the other spots we locate via Google or Foursquare are either low-rated or too far away. If only last night's street food stalls could reappear right here, right now.
A Japanese place looks pretty good, but it looks like they are setting up and according to the sign it doesn't open for another 15-20 minutes. So we kill some time by checking out the comic shop we passed earlier. It's a total mainstream/superhero-type place. Boring. We kill more time by walking over to John Mills Himself which, while not yet open, is in an interesting old building that now is. We learn about endangered koala habitats as our stomachs grumble.
Back to the Japanese place and… they are closed! Whaaat? Turns out I instead the sign and they close at 4pm, even though when we walked by earlier they had already closed.
Out of ideas, I mention seeing an outpost of Grill'd, a local burger chain not far from the mall that has zucchini fries and veggie burgers. Kit had eaten there in Sydney during Mike's comic shopping spree, and it didn't look bad. We drag our tired asses over there and place burger orders.
I have a perfectly decent hamburger, Mike has a veggie burger with the omnipresent beetroot, and we split an order of crispy zucchini fries. Not bad for fast food.
Now that we can continue walking the streets of Brisbane without passing out, I want to head back over to John Mills Himself (for the third time!) to get one of those fabled coffees. Back again, and they are open — hallelujah! But when I go to place my order I am told by the man behind the counter that they are not serving coffee right now, as is their custom on weekends. Only liquor. As he says this, he taps the side of an empty coffee grinder on the counter for emphasis.
Stupid Australian business hours! I seriously do not get it. I'm more than a little grumpy and now I want some coffee, any coffee, so we go back to the Japanese cafe and get a cup while Mike samples the flourless dark chocolate cake, of which I also partake. Coffee and chocolate. Better now.
Even with the caffeine-and-sugar infusion, we're feeling a little fried, but there is one last stop: the used record store whose sign I passed that morning. So we go check it out.
It turns out to be one of those places with an insane number of records — "more than a quarter million" the (presumed) owner tells us as we begin to browse — that is more a vanity collection than anything else. High prices for mostly run-of-the-mill stock that looks as if it's been sitting in those dusty bins for quite some time. No alternative or indie or punk music section, of course.
We do some cursory flipping and a walk around the store, but it becomes clear quickly there isn't any point in immersing ourselves here, even if we still had the energy. But I first have to wait for the owner to finish up his rant to the hapless customer at the register trying to escape with with purchase — something about kids today not wanting to spend all their free time scouring garage sales for records to resell on eBay and, why, it's the same as wasting your money buying a bottle of water! Because I checked my bag and need to retrieve it. The bag retrieval exchange gets us almost sucked into another similar exchange, this time about the high cost of housing, but we manage to escape without having our ears bent off.
Evening
The show tonight starts later than the one the prior night, which means we can get a little rest first. We'd texted our Airbnb host, Nick, before heading to the last record store, saying we'd be back in about an hour, and would he be there? Because he has the only key to his place.
He finally replies after we're done with the store, saying he is about to head out but he'll leave the key at the convenience store in his building complex, and we should pick it up from the clerk there. And since the convenience store will be closed later, when we go out we should leave the key for him hidden on the bottom shelf of a bookcase in the building's ground floor common area. Nick says he will let us in later after we get back from our show, which I say will be sometime around 1am. No worries!
That sorted (or so we think), we head back to the Airbnb and follow his instructions. The convenience store clerk, it is clear, is very familiar with this drill. As soon as I launch into an explanation of what we're there for, she, unfazed, reaches for a log book of sorts under the counter, and asks us to first sign before handing over the key. It's also becoming clear to me that this building complex sorta probably does not condone residents renting their rooms out, otherwise they'd give out more than one key to each resident.
Anyway, even though this seems overly-complicated, we finally have the key. I was hoping we could maybe have a nice, relaxing swim in the building's pool before going out again. But as we enter, I note that it is filled with children playing a spirited game of Marco Polo. So much for that idea.
Instead we flop on the bed and alternately zone out and do internetty things on our phones, all with the bedroom door wide open so we can catch some of that living room air conditioning.
Before long it's time to head out again, for the show at the Grand Central Hotel downtown, organized by Trainspotters. And what an amazing bill! Brisbane bands Blank Realm and Thigh Master, the latter of whose "Head of the Witch" single is so good, I had to mail order it from Australia last year even though it cost me over $12 (American). Plus Melbourne band Terry, featuring Al Montfort from Dick Diver, and also producers of one of the catchiest singles of 2015. And finally a local band called Cannon that we haven't yet heard.
And, yo, we're on the list. As soon as I found out about the gig, a few weeks before our trip, I messaged Trainspotters: will there be online ticket sales, and if so, when do they go on sale? Because I'll be visiting from Seattle and love those bands…
I got back a very nice message from organizer Pat offering to put me on the list. I even got a +1 when I asked. (So nice!) So even though we don't have to worry about getting there early enough to get a ticket… we do anyway. The Grand Central looks to be the pub portion of a cool old train station, with doors to other parts of the building that serve different functions.
After giving my name at the door ("oh, Pat mentioned you guys, from America?") we grab a couple of beers and find the two best seats, stools at a tall table right by the stage. Or, the "stage," really. It's just one end of the pub where everyone's gear has been set up, right on the floor. And there are not a lot of people here. At least not what I would expect for a bill like this. But The Clean's Vehicle is playing over the PA. And Thigh Master go on first! But I guess they're just another local band here.
But when they go on, at 9:30 sharp, I'm excited. I'm bouncing on my stool and grinning as they launch into "Age of Concern." And when the female guitarist's amp goes out midway through on "Head of the Witch," it doesn't even matter. The band keeps on playing through the song. Rock n' roll!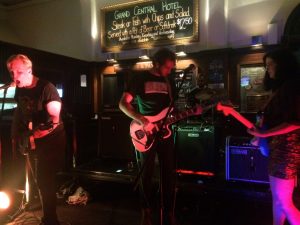 After they're done with their set, we do the now-familiar accosting-of-random-band-member-for-merch. We tell the lead singer/guitarist: what an awesome set! And do you have anything for sale.
Sadly, no. But in talking to him I learn that I already have their entire recorded output to date, two singles. Chatting further, we learn that his name is Matthew and he also runs the label, Tenth Court, that put out his band's records and those of other Brisbane bands on our radar. He encourages me to contact him on Facebook about a label cassette comp. And when he learns we're from Seattle, he mentions the Australian band Wireheads (also on his label) who have been to Olympia, WA and recorded with Calvin from Beat Happening. We are enthusiastically encouraged to check them out, which we will most certainly do.
The between-band break music is now… Orange Juice! Specifically one of my favorite songs, "Falling and Laughing." I initiate an impromptu dance party of two, just me and Mike, in the middle of the pub with no one else around us, singing along with all my favorite lines. Happiness.
Next up: Cannon. As they start to play, there's a sudden rush of people to the stage. Before long, the first of a few different tall dudes stands right in front of me, but I roll with it, especially since one of them is so super-into their music, dancing and grooving in his own little universe.
Their music is high-energy, garage-y rock with a bit of post punk. The red-lipsticked singer brings the drama with a scarf he unwinds around his neck and uses as a prop to emphasize parts of his delivery. It gets even hotter and sweater in here, and I spill some of my beer on my dress as I attempt to wrest it from the condensation-soaked coaster to which it is stuck. Oops.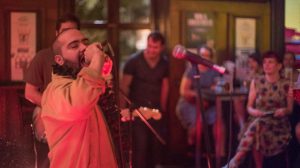 After another break filled with excellent PA music and more beers (for hydration purposes, naturally), it's time for Terry. Maybe because they're not local, it takes a few songs for the crowd to build up again. But we're off our stools by this point, standing as close to the makeshift stage as we can.
Al Montfort is in a white singlet and cowboy hat, the latter of which makes its way onto the heads of other band members during their set, crackling with jangly guitars and male-female vocals and a kind of loose energy that again sets us dancing. When they launch into "Talk About Terry" (their first single), there are whoops of recognition and more intense dancing. So, so good.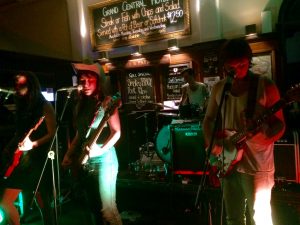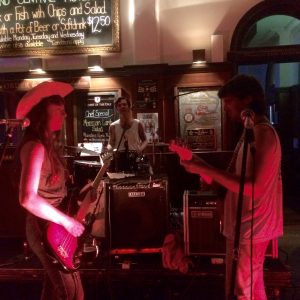 Then one last break before Blank Realm. We are not-so-subtly stalking Al, as earlier in their set I'd spotted what looked like 7″ singles propped up against the back wall behind the drummer. And he seemed to be handing over a couple of records to the fellow with whom he was talking now.
That fellow departs, and we see our opening. Great show! We'd love to get a copy of the new single, and do you have the previous one? Yes on both counts, so two singles for each of us. We mention seeing one of Al's other bands, Dick Diver, in Seattle last year and how great a show that was. He seems to remember, saying it was a cool venue, like a youth center (basically — The Vera Project). We also mention we were at Robert Forster's Melbourne gigs the previous week and caught his opening band, Lower Plenty. He seems surprised, so we tell him about our musical hopscotch tour and talk a bit more about all the great new bands in Australia right now.
It's partly the beer, but also being "the exotic American," I guess, that makes it easier to go up to bands and talk to them, after their sets. Plus everyone so far has been so friendly. And what better opportunity to learn about other cool music, get copies of records that are otherwise extremely difficult to get ahold of, and encourage these great bands to come tour the U.S. I make more than one offer to act as Seattle tour guide, should they ever make it to our neck of the woods.
Blank Realm are setting up now, so we make our goodbyes and maneuver ourselves to what we think will be the best possible spot. People have been jamming themselves in front of me where I figured there was no room. So by the time Blank Realm takes the stage, I find myself three feet from the bassist. If someone wants to get in front of me now, they'll have to essentially launch themself at the band.
And I'm so glad I plonked myself right in front of the stage, because Blank Realm are fan-fucking-tastic. Incredibly high energy garage pop, with a keytar player that won't quit. I didn't realize before that the singer is also the drummer — extra difficulty points for that, for sure. There is mad dancing, and I nearly get nicked by the bassist's head stock more than a few times. Hot? Is it hot? We don't care. They save "Palace of Love," from the new album, for last. It provides a fitting close, as we heard those guitar chords echo and keyboard lines swirl over and over… until it really is over.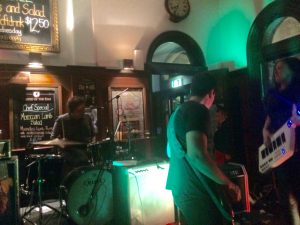 Mike is able to grab the singer/drummer's attention, but it turns out they have no merch. Darn. Again we mention we're from Seattle, he says they've played there before, and we say "we know, but we missed you that time!" so please come back. Please.
While waiting to talk to the dude from Blank Realm, I happened to overhear someone congratulate a familiar-looking fellow who was also by the front of the stage on his band's new album. Hmm. I tell Mike: "I think that's a member of The Goon Sax." But, of the two fellows in the band, which one? Probably not the one who's Robert Forster's son. He doesn't seem to look like Robert Forster. Not that it matters. Oh what the heck, I'll just go up and talk to him now.
So I walk right up to this guy and ask, "Are you in The Goon Sax?" To which I get a somewhat surprised "Yes." Then I tell him how much I like the new album and how Mike and I had listened to it on the drive up to Brisbane. "We're fans of yours from the U.S." Goon Sax guy thinks this is pretty cool, and asks us what brings us to Australia. Seeing bands! We're sorry to be missing his band's Trainspotters show in a couple of weeks. But we're about to leave Brisbane. In fact, we leave the next morning for Dunedin to see The Clean.
At this, slightly drunk Goon Sax guy gets very animated: "I love The Clean! That's going to be great. I've never even been to New Zealand." This last revelation surprises me for a moment until I realize that he — like the others in the band — are all still teenagers. But still we encourage him to visit NZ ("Wellington's great!"), before leaving with our obligatory entreaty to visit the states.
On the way out I do a quick Google Image Search. Okay, pretty sure that was James I was just talking to. James from The Goon Sax: nice talking to ya!
Brisbane has been great fun, and we're sad to leave after less than two full days. I recall the tongue-in-cheek graffiti I spotted in the ladies toilet at Brew earlier that morning: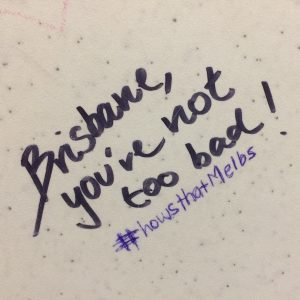 By now it's getting close to 1am, the time we'd let our Airbnb host know we'd be back. And we still have a short walk back. So we retrace our steps back through the park and over to his building, buzzing with happiness over the amazing show we got to experience. But our buzz it about to get killed, and hard.
I call up Nick's apartment number on the digital directory by the door and ring the bell.
And ring the bell.
And ring the bell.
There is no answer.
Fuck.
I send a text. I send another text. I send an Airbnb message. I start to panic.
Another resident approaches the front door and we follow him inside the lobby. Some progress. But we can't get anywhere in the elevator without the key fob, which unlocks access to floors in the building. So we go sit on a sofa as I realize I should place an actual phone call. So I do. Voicemail. More calls, more voicemail.
It's now 1:30? 1:40? And I feel we're running out of options. Maybe there is building management I can call. I walk over to the pool area and find a sign about pool usage posted by the management. It has an after-hours number listed. Bingo.
I call that number and am connected to a very exasperated sounding gentleman who has a hard time understanding the situation as I explain it. Can we get access to the floor our "friend" lives on? I'm asked if I know whether he rents or owns. Uh, no idea. Well, he can't help me. Sorry and bye.
Maybe Airbnb customer support? Mike suggests taking over repeat phone call duty to our host's number in the meantime. I waste time trying to find a valid Airbnb customer support number. The Australian one disconnects twice before I get a message saying there is no one on duty right now. And when I try the U.S. number, I get asked to first answer some survey questions that might have to do with a contest (???). Attempts to skip this garbage by dialing zero result in disconnection. Thanks, assholes.
It is almost 2am and all of our bags, including my passport, are now essentially being held hostage by this guy. I consider calling the police. I voice this thought aloud. Mike decides to go outside and ring his damn doorbell over and over for awhile, while I resume phoning his number.
Then Mike pokes his head inside to say: he heard a buzz in noise on his latest doorbell ring attempt. Signs of life! We stand and wait anxiously in the lobby for what seems like an eternity until the elevator opens and Nick ambles down the long corridor towards us. He didn't hear the bell/phone until just now, he says, with no apology. In fact, he seems somewhat put out at having obviously been awakened. We exchange few words.
A short, silent elevator ride later, we enter our room, shut the door, and try to relax. Our flight is in 6 hours and I'm not sure how well we'll even be able to sleep in the short time we have. We focus on doing all of our packing now so we can make a quick escape in the morning. What a nightmare.
But it's now over (unless our host intends to murder us in our sleep?), and it looks like we may be able to get to Dunedin after all. We set early alarms and try to let our exhaustion take over and carry us into sleep.